Description
Edit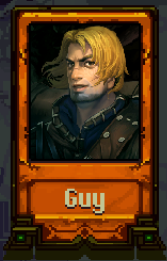 "Adventurer" is the nickname given by the tavern guys. Nobody ever knows where he comes from and even he can't really tell his past, as if his early life was cut out from his memories.
Passive: Restore life by the number of killed monsters when entering the next dungeon.
---
Guy is the starting hero. You need to reach at least dungeon floor 10 to be able to unlock other character. He starts with:
Main weapon: Hatchet (4 damage)
Skills: Adventurer's Roar
Mana: 8 points
HP: 31 points
Strength: 5
Dexterity: 3
Intelligence: 2
Stamina: 4
Armor: 10 (Padded Armor)
Resist: 2%
Hit: 78%
Crit: 0% (+5% Hatchet)
Block: 0%
Dodge: 3%
Luck: 200
Strategies
Edit
Guy is the Warrior early class. His passive will help him start every level with full hp, and his starting skill, Adventurer's Roar, allows him to last longer, taking less damage.
To take most benefit from Adventurer's Roar and your passive, you should begin scouting every level before fighting the monsters. Doing this you can have more chances to find Heart of Life with full health, which will upgrade your max HP. Also, finding more monsters locks more tiles which boots your Adventurer's Roar effect.
Most of interesting skills for Guy needs him to have at least 4 Intelligence points.
Community content is available under
CC-BY-SA
unless otherwise noted.